David Wojnarowicz
"Really, I just don't want to fucking die."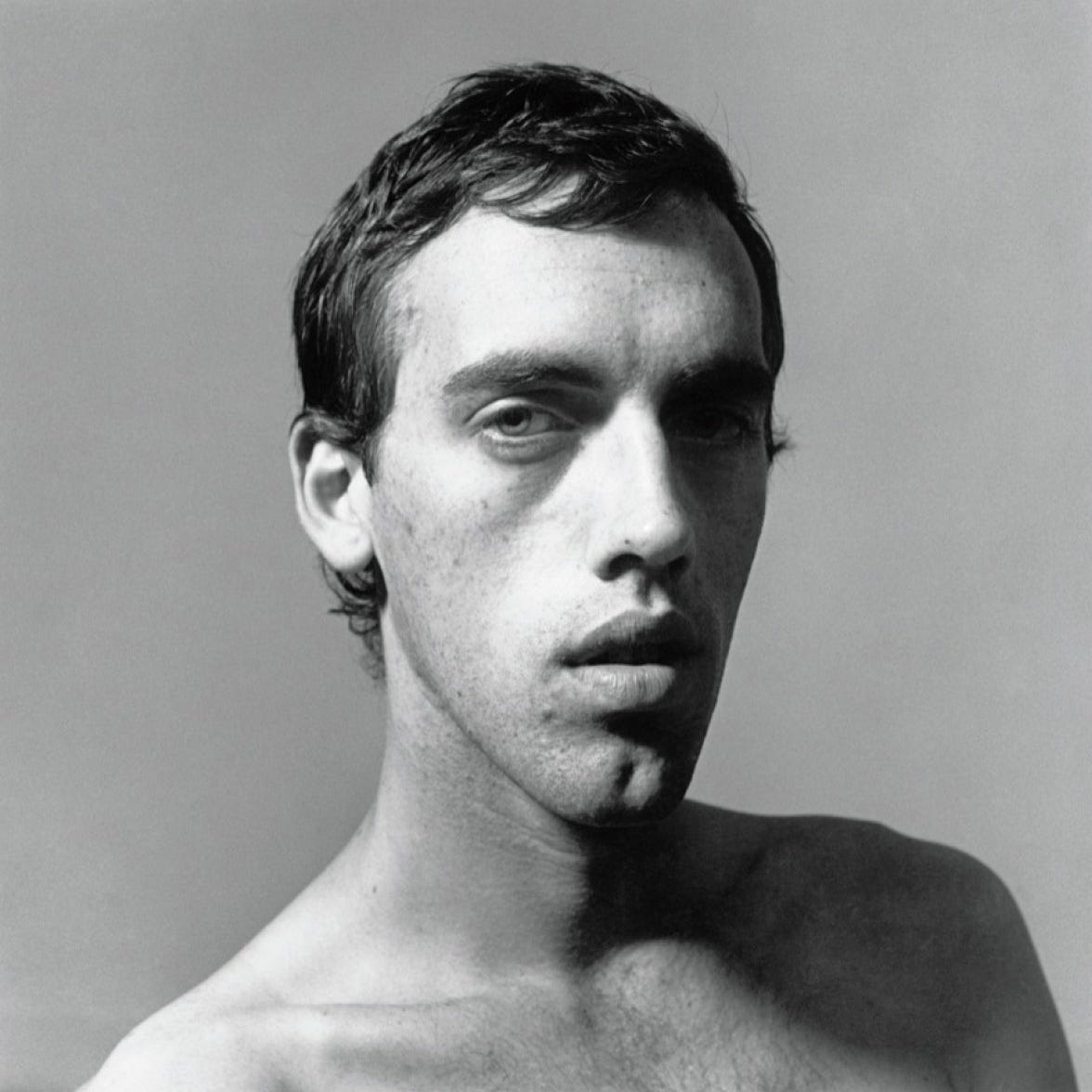 Warning for discussion of suicide, medical trauma, BDSM, and sexual assault
Here's an exercise:
Wait for a straight person to ask, "When was the last time something like this happened?"
Pause for a beat, then gently tell them the truth. "AIDS." It's just one word, but they will flinch. They will begin to deny the truth.
Pause another beat, then interrupt to supply them with something safer. "The Spanish Influenza of 1918," you can say. Then they will be happy.
(You can swap out white people, cis people, or people who've never lived outside or done street drugs with straight people. Works about the same.)
I know that this is different, in that coronavirus is not contagious in the same way that HIV is, and has appeared to be more democratic in its choice of victims (we stan an inclusive disease!), or is certainly understood to be that way. But when we're talking about structural failure, the willful neglect of our government, and the compounding of oppressions, only someone who is afraid of the truth will ignore the similarities between this plague and the last.
If we're not afraid to know it, here's what we know: that even if we behave perfectly from this moment on, millions are going to die in this country alone. That we're probably at the beginning of another Great Depression. That the people who are most at risk of sickness and death are the people who always have been.
This is terrifying.
Still, as the survivors of the AIDS pandemic are only too qualified to remind us, the world has ended many times before. A few days ago, the requisite COVID-19 corporate acknowledgment email from Nasty Pig Founder David Lauterstein departed from the standard schlock (and I should know—I've written one myself, for the company that hasn't laid me off yet) to confirm that while "this is some scary shit we're dealing with," we ought not forget that "in my lifetime we've been through the cold war, the AIDS crisis, 9/11, the economic crash of 2008…"
"Now that I'm a Daddy in this community," went on my fellow David, "I feel it is my responsibility not to tell you to keep shopping, but to tell you that we will get through this." He signed off, "Yours in sodomy." Bless him.
If you're still terrified, it's good to remember, if you haven't already, that millions people are still living and dying with HIV and AIDS, in no small part because accessing drugs like PrEP—not to mention adequate health care—is nigh impossible for most of us. That people are afraid they won't be able to get the drugs that keep them alive while also being immunocompromised and thus more vulnerable to the virus. Now that more of us fear death in a more immediate way, perhaps we can remember that better. Perhaps we can demand more, for them and for ourselves, so that no one has to live this way.
It's good to remember, as Mariame Kaba says, that hope is a discipline.
At 61 days since the first person on American soil was diagnosed on January 20 (a year to the day before, I might add, Inauguration Day 2021), and for me, personally, 13 days since I was exposed to someone who was exposed to someone diagnosed with COVID-19, fear of death seems well on its way to permeating everything. We're not there quite yet—many still seem to be in denial, or, because of factors outside their control, still ignorant of what this means, and what it demands—but as Charlotte tweeted on March 16, "we have entered the crack between a before and an after."
---
I was saving David Wojnarowicz for something special. This David was going to take a long time to write, I figured, and because his work is so important to me, would probably happen toward the end of this project. I didn't anticipate him entering DAVID for some time.
I guess the something special has happened. I just didn't think it would be a pandemic.
"There has always been literature of pandemic because there have always been pandemics," Ed Simon wrote for The Millions last week. Out of this tradition came St. Sebastian, the patron saint of the plague-stricken. His feast day is, if you can believe it, on January 20.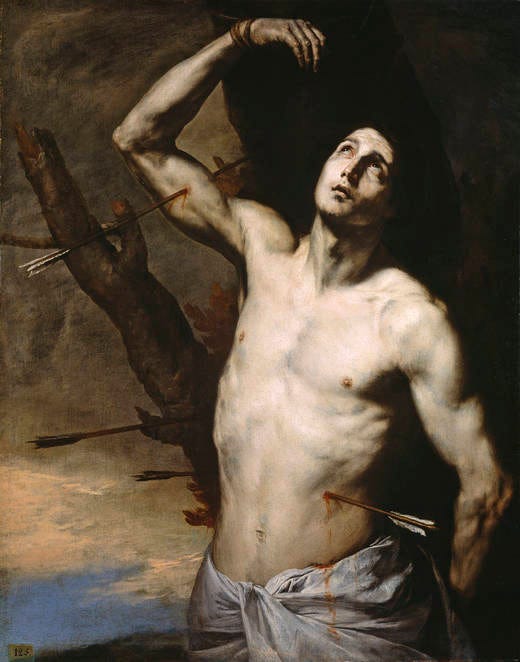 Though St. Sebastian was beaten to death in 287 AD and is associated primarily with the Black Death (which took place centuries later), the images you've probably seen of him shown him tied up and lacerated with arrows, a beautiful youth suffering a slow and measured execution. An Adonis in pain. There's a reason why he's come to symbolize a "homoerotic ideal," as Richard A. Kaye wrote; that he evoked the violent, "pagan joy" of Yukio Mishima's first orgasm. Gay beauty knows it is doomed. Gay beauty, as we know it, is inextricable from death.
---
I started EMDR last month, but canceled the remainder of my sessions because they cost money I can't spare. My sister will soon be out of a job and too many of my gay family will need even more help than they did before. My own job has suddenly become uncertain—I have no idea how long I'll be able to afford rent, much less my student loan payments and my medical bills.
I hadn't even begun the process of EMDR itself, but I had completed the inventory process, where you tell the therapist about all of your traumas, particularly the moments where you thought you were going to die. That's when PTSD happens, they say. When your body thinks it's going to die.
The inventory was hard, not because I was forced to recall some of my most frightening memories, but because I couldn't decide which of them merited inclusion. Reading to me from a list of prompts, my therapist took careful note of things I didn't think were all that notable (when I was six, for example, our apartment burned down), and looked at me hard when I told them I was finished with my sexual assault history.
"Nothing else?" they said, raising an eyebrow.
"Nothing," I said.
It's not easy for me to think of times I consciously thought I was going to die, which I think means I'm very lucky. I have not been in a war zone. No one has held a gun to my head. I haven't been chased by a wild animal. I haven't laid in a hospital bed, wondering if I'd be leaving the building in a body bag.
But there were many times when I thought I would soon die, because I couldn't eat, or because of my autoimmune disease's destruction of my body, or because I was in so much debt, or because I was afraid I was going to kill myself. My therapist asked me whether I'd witnessed natural disasters, whether I'd seen someone die, whether I'd been raped, whether I'd been beaten; while some of the things that have happened to me fit those descriptions, some didn't. Some refused to. How was I to categorize the events for which there were no questions? How was I to talk about discrete fears of death amidst long-term terrors, nightmares, and psychotic episodes? Jobs and identities with high mortality rates? Living with abusers? (I've yet to encounter a non-transsexual medical professional that understands the trauma of forced puberty. When I've thought it worthwhile to explain, I've always gotten the impression they didn't believe me.)
When I found out that my first top surgery operation had been botched, I thought I was dying. The room tunnelled. The lights burned. I laid down for the male nurse who had unbandaged me so he could remove my drains and thought that he was going to rape me. Then I thought that I was going to kill him.
When I got home, for the first time in years I began to plan how I would kill myself. My sister talked to me for a long time. That helped. I couldn't bear to think of my dead body with the chest I was trying to escape. That helped, too. For comfort, I read David's The Weight of the Earth. (Later, I wrote about it for Lithub.) It comforted me.
After he was diagnosed with HIV, David thought a lot about his own impending death. "Trying to understand what I fear about death, like what I fear about living: what comes out of the two, what rockets or ricochets between the two ends of the spectrum—if indeed it's a spectrum at all. But none of that matters."
Like David, many of us are monitoring ourselves for symptoms right now, not knowing what they mean or portend (if this is new for you, I am sorry. It's hard and scary.). In The Weight of the Earth, he moves between anger and sadness and acceptance and joy and confusion and defiance. But really, he says, "I just don't want to fucking die."
A few weeks after I got my bandages off, my partner at the time flew me to New York to visit them. We went to David's exhibit at the Whitney. I was captivated by his painting, "Peter Hujar Dreaming/Yukio Mishima: Saint Sebastian," which I had never seen before. I was impassioned (horny) and challenged (worried) and disturbed (the colors). I had not known that St. Sebastian, a figure I knew from Mishima and Egon Schiele and Damien Hirst, appeared in David' work.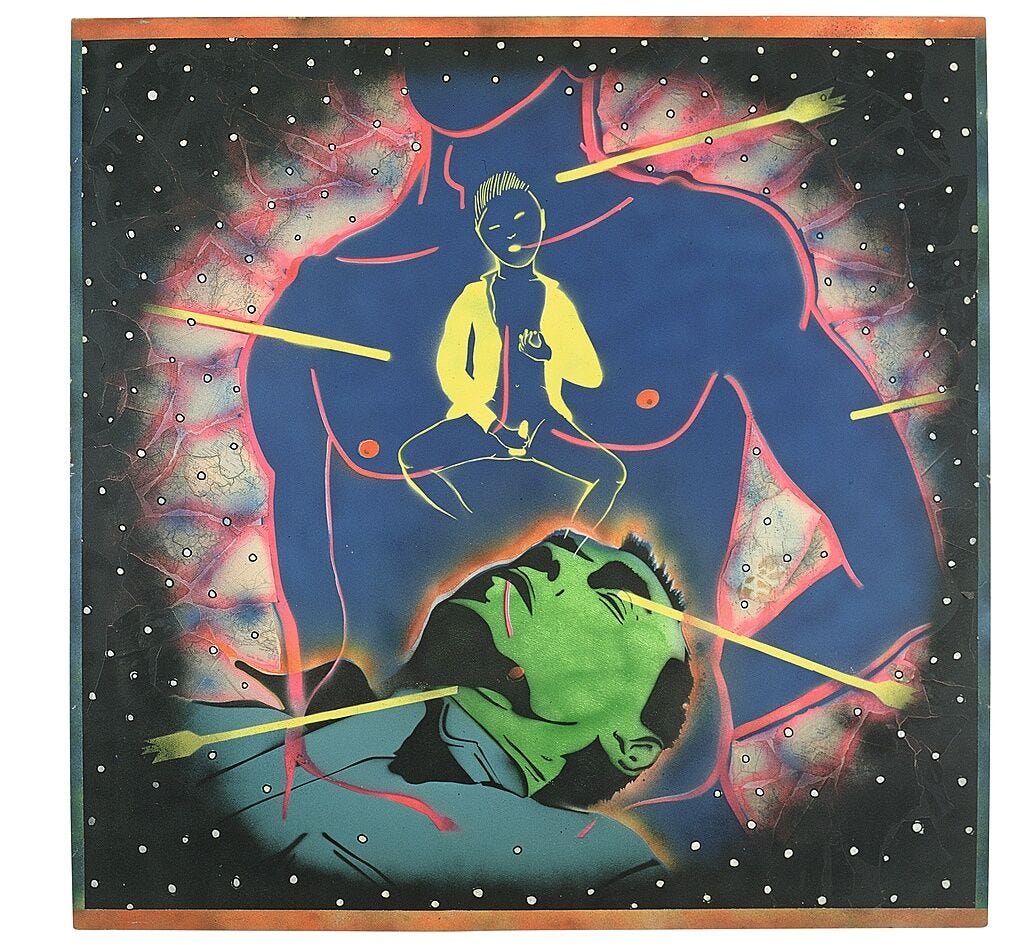 When I moved to Brooklyn six months later, I was still healing. I was binding tightly every day, desperately hoping that the remaining breast tissue—almost the same amount as before, but scarred and painful—was mostly swelling, like the surgeon said it might be. It wasn't. After the surgery, she avoided my calls and emails, but I still had to pay $5,000 to be cut open for nothing.
In February, my wonderful friend Dahlia came to visit me. A new friend, Elle, took photos of a scene we did together. The sadness I felt, in the year-and-a-half between my first surgery and the second (which went wonderfully, thank you very much), only went away when my loved ones made me bleed. The following summer, a year after I went to the Whitney for the first time to see the other David, I went again to see myself: There on the wall was a giant photograph of my bloodied thigh, with Dahlia's gloved hand holding a blade next to the word the blood spelled.
In his memoir, Close to the Knives, David wrote: "Transition is always a relief. Destination means death to me. If I could figure out a way to remain forever in transition, in the disconnected and unfamiliar, I could remain in a state of perpetual freedom."
As a transsexual, a gay person, and a sick person, this means many things to me. When we read it in the context of the years he lived with HIV and AIDS, it means many more. It is accurate, if simplistic, to remark on the courage of a gay man who embraced freedom, regardless of the consequences. David, sainted victim of the plague of his time, was more than brave—he loved pleasure and fucking and gay people. He loved himself, before and after. That is how he survived, even when he died.
I wrote about David's pleasure for New Life Quarterly (I'm sorry. I know I've written about him a lot), because I think it is pleasure that is at the root of his art and his activism.
There is something about his pleasure-seeking that is remarkable to me. It's not escapist (traumatized) but actualized, probing; that kind of curiosity is a rare quality, I think. It's actual pleasure-seeking rather than numbness-seeking. When you're reading or listening or looking at/to him, his reaction to the world seems like the most natural thing in the world, but then I look around and see how very few people (that I know, anyway) are able to do that, not through any fault of their own, but because that horror is so all-consuming.
I think we can do this, even if we don't survive. I think following pleasure makes us into lovers. I think pleasure is the way through.
David tweets at @k8bushofficial.